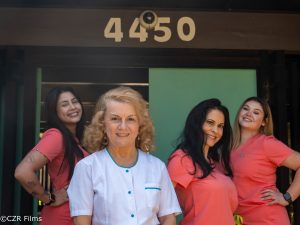 Rodica Popovici, DDS is a General & Family Dental office conveniently located in El Sobrante with easy access to Interstate 80. With several years experience practicing dentistry in the East Bay area, Dr. Popovici has many families and individuals coming to her from the surrounding communities.
Our Service
Dr. Popovici is dedicated to providing excellent dental care for you and your family with

personalized dental care you can trust and afford

. This includes a flexible schedule and respect for your time. Above all, she embraces a philosophy of care that is anchored in ethics and commitment to excellence.
Dear Patients,
Recently Gov. Gavin Newsom announced that California would impose regional stay-at-home orders in response to rapidly rising test positivity rate and hospitalizations due to COVID-19.
The restrictions announced do NOT include Dental and Medical health services. Our office will remain OPEN to take care of the needs of our patients as we approach the end of the year.
​For the safety of our patients and staff we are closely following guidance from ADA, CDA and California Department of Public Health and continuing additional changes including the following:
Patient Screening before appointments
Curbside Check-in
Checking temperatures
Hand sanitizer available for us
Social distancing as much as we can ( we are spacing our appointments out so there is not more than 1 patient in waiting area)
Mask is required to enter office
Air Purifiers
Increased PPE for back office staff
Pre-Treatment disinfectant Rinse
​
Also to limit the number of patients in the office we are asking that you DO NOT bring anyone with you to your appointment. If patient is a child, we are asking that only ONE parent accompany child in the office. If you do not have anyone at home and must bring your child with you to appointment let us know before your appointment and we can arrange our schedule accordingly to allow for social distancing in waiting area.
​For the time being any cancellation fees will be waived if you decide you do not feel comfortable coming into the office at this time, especially to our higher risk patients. We do urge to keep up with your oral care at home, brush 2-3 times a day and call us if you have any emergency.
​These are hard times for everyone and we are doing our best to keep our patients and staff as safe and healthy as possible. Thank you for continuing to trust Dr. Popovici and staff. We as a team, appreciate your support and hope to see you before the year ends. If you have any questions regarding your dental care or our COVID-19 safety protocols feel free to give us a call.
​Best,
Rodica Popovici DDS
​